Intake conveyor type C300 is made of standard elements which,through combination, can easily be fitted into any conveying installation.
The JEMA AGRO intake conveyor is made of strong galvanised material, which makes it particularly suitable for outdoor applications. The intake conveyor has low power consumption in relation to its capacity. The C300 intake conveyor is designed for transportation of grain, granulates, and other bulk goods.
A steel chain fitted with synthetic carriers ensures that all material transport is conducted quietly, safely, and effectively. The capacity can be regulated steplessly. Regarding capacity, the intake converyor is designed for transporting materials from a JEMA Dry Pit to a JEMA bucket elevator.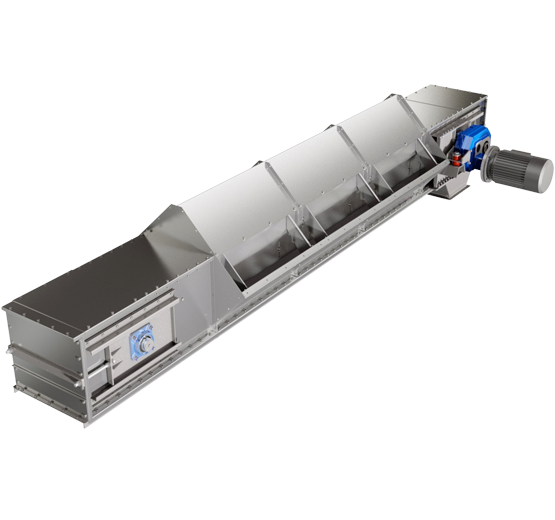 Standard equipment:
Directly mounted gear motor
Torque arm for shock absorption
Outlet hopper for drive station
PEHD carriers
Cleaning hatch in drive station/ tightening section
Tightening possibilities in both drive station and tightening section
Inspection cover in drive station / tightening section
Adjustable plates in the inlet troughs
Accessories:
Adjustable endplate in tightening section for keeping it clean
Cover for geared motor
Blockits sensor
DRY PIT