T50 / T51 / T52 Belt conveyor
Belt conveyor type T50/T51/T52 is made up of standard elements which, when correctly combined, can easily be fitted into any conveying installation.
The JEMA AGRO belt conveyor is manufactured in galvanised steel and designed in a light and easy-to-assemble modular system. Type T50 is designed with sliding profiles, whereas types T51 and T52 are designed with guide rollers. All three types are quiet and have low power consumption in relation to their capacity. The belt conveyor can transport materials in both directions. There is also a possibility for transport at an upward
angle of up to 30° using carriers, however, with reduced capacity. The belt conveyor is well-suited to safe and effective transportation of most materials.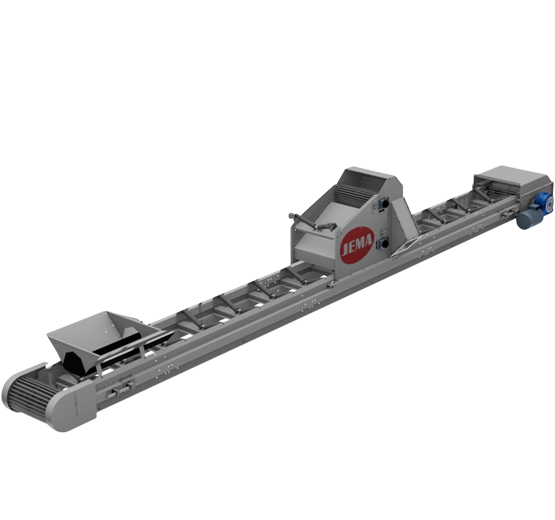 Standard equipment:
Directly mounted gear motor
Torque arm for shock absorption
EP-belt
Support rollers each 0,5 m
Sliding profiles each 0,5 m
Returning rollers each 2,0 m
Shielding for drive station / tightening section
Tightening in both drive station and tightening section
Tilbehør:
Inlet hoppers
Outlet skirts/outlet hoppers
Cover for top/bottom
Speed control monitor
Moveable tripper carriage
Drive winch for tripper carriage
Belt with vulcanised v-carriers
Runners for adjustable support fittings
Belt guide rollers
Belt scraper internal
Belt scraper external
Side extensions
Oil resistant belt
Outlet deviser